Anyone with a keen eye on the dance music landscape will no doubt have noticed a refreshed focus on Miami. The second most populous city in Florida after Jacksonville, and a very different vibe entirely, Miami endures as a bubbling centre for creativity and electronic music that spans from soulful and searching, comfortably indebted in particular to the roots of Cuban and African American traditions, as well as a nightlife culture that has provided the aesthetic foundation for much in television, film and wider popular culture.

From the outside peering in, there is perhaps a feeling that Miami doesn't necessarily receive the props of Northern metropolises such as New York, Chicago and Detroit. Nonetheless, Miami dances to the beat of its own drum (usually a TR-808) and chips on shoulders wash off at the beach. As such, it has been our pleasure to be able to release the latest CWPT mixtape from Brother Dan, representing the city's online/offline record store and label, Terrestrial Funk. An operation encompassing a generous, global perspective on dance music, focusing on reissues and originals alike, Terrestrial Funk represents all that is good and gracious in the Miami scene.

As compelling at his keyboard as behind the decks, we invited Brother Dan to add some context to the tape, zoning in on a selection of underrated selections, unspooling the stories and figures behind them.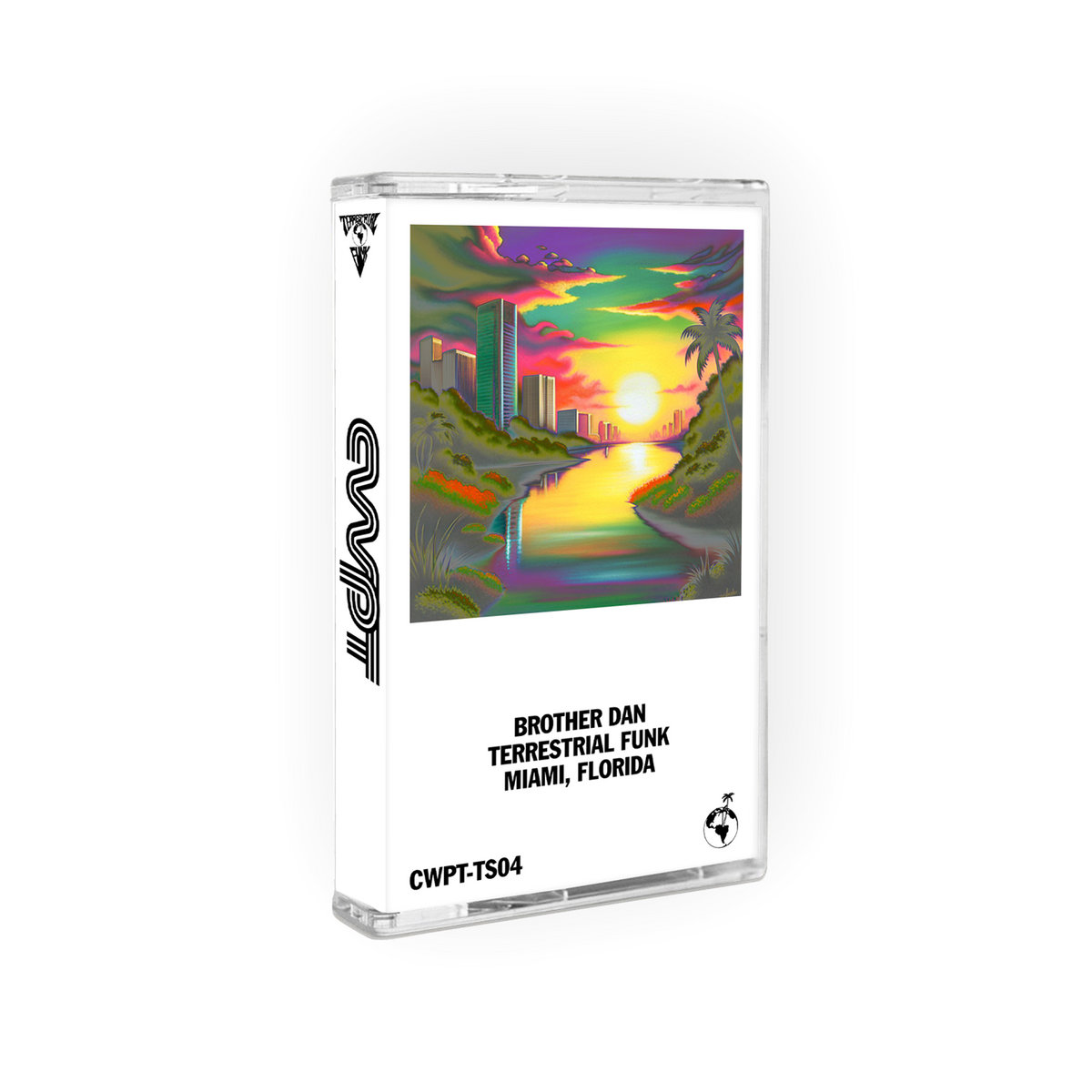 One of the greatest values you can find in collecting records is the picture they paint of the places they're from. As my passion for collecting has grown, one of my focuses has been on archiving Miami's music. Beyond providing the simple joy of imagining what people were getting down to in my hometown four decades ago, they deepen our understanding of the city's history and document the lived experiences of one of the most magical places on earth. With this in mind, it was no lighthearted undertaking putting this mix together and doing my best to weave together Miami's history. I focused on two decades, the 1980s and 1990s. Working with the format of a 90 minute cassette split into two 45 minute sides, I used the first half for midtempo 80s jams and the B-side for uptempo cuts from 80s boogie to 90s freestyle. In discussing a few of the songs from the tape, I hope to share a little of the intention I tried to explore in this mix.
Dr. Mary Bain Sullivan & Herman Attaway - Tell Me Black History
We'll begin this showcase with the last two records on the B-side. Two versions of 'Tell Me Black History' by the late Dr. Mary Bain Sullivan in collaboration with Herman Attaway.
Dr. Bain spent her life serving Miami's youth. She recorded and produced these songs to use as teaching tools and distributed them amongst Miami-Dade County schools. It's been a while since I last tried to track her and her history down but I remember finding that she eventually ran her own child development center. Her daughter Pruchelle followed in her mother's footsteps, teaching in the Dade County school system for 38 years before passing away in
2021. These
songs felt fitting to close a mix that showcased so much black history.
It's important to contextualize social and economic conditions this music was born out of. Written and recored in 1980s and 1990s, most of it came from the historically black neighborhoods of Liberty City and Brownsville. Less than two decades earlier 12,000 people were displaced only a couple miles to the east when homes were seized and torn down by eminent domain to make way for the nation's new interstate highway system. 1968 saw a race riot in these neighborhoods, and nearly 13 more leading up to the 1980 riot after a state-sanctioned murder of Arthur McDuffie by Miami police. That kicked off the decade that gave us all this music. If you're interested in diving into more of what shaped Miami outside of the music, I highly recommend the book '
A World More Concrete
' by N.D.B. Connolly.
Cynthia Roundtree - Stop Searching For Love
I didn't play any of the Miami releases from my own label Terrestrial Funk on this tape but I at least wanted to draw some connection to those artists, Lang Cook & Teddy Studstill, that I admire greatly. Cynthia is the model on the cover of our first release,
Lang Cook's 'She's Hot With 2,000 Watts'
and Teddy is the guitarist on that record. We later put out unreleased work Teddy recorded with Luke Jasmin and Harris Mazyck. Aside from modeling the amazing fashion designed by Lang and hemmed by his grandma, Cynthia isn't featured on the record but released three singles of her own in the following years. Her first, 'Stop Searching For Love' which you'll find on this mix is the only produced by Winston Campbell. The latter two were produced by Miami Bass and freestyle legend Amos Larkin III, who's credited on 135 releases.
Grace Rico - Tell Me
Michael Sterling is best known for his hit '
Lovers & Friends
' released in 1990 and covered 14 years later by Usher, Lil Jon, and Ludacris. The second track on the A-side of this tape is an absolute burning electro boogie track Sterling released on his own
TSOM
(The Sound Of Miami) imprint. For the B-side of the mix, I focused on more uptempo tracks and mixed in Sterling's 'Night Club Babes' on a separate imprint of his called
Success Records
.
La-Cresha - Real Love
Here's a cool Miami take on LL Cool J's 'I Need Love'. I got this one from my buddy Dan Gore aka EZ Dee at The Miami Record Fair that I organize monthly. I was happy when I heard this one because I had remembered Teddy Studstill telling me how LL Cool J's track inspired him to write another cover. It's cool to see that the original influenced more than one Miami artist and I've heard more covers of the song since. If you're reading this and know of any, send them my way.
Christ-Win's Band - From Rock To Rock
Here's a wild one from the album 'Smoking Crack'. Thanks to my buddy Dylan McArthur of
Tambourine Party Records
for trading this to me for a Tascam Portastudio and some other record. You'll find his reissue of this album out any day. The whole A-side has such strong jams but 'From Rock To Rock' is my favorite and kicks off the B-side of the 'Miami, Florida' tape. You'll find yourself dancing to the not so subliminal message of leaving crack rocks behind for the rock of Christ. I'm sure Christianity has served as a tool for breaking addiction but I'm more concerned with cutting it at the source when the CIA spread the drug in black communities throughout America. And I'll leave you with that.
---
027 ︎︎︎
KDM - Heaven



Back into South African music of all shapes and sizes in a big way recently after two cherished appearances at Waking Life and Rainbow Disco Club where I could start refreshingly slow and incorporate a lot of Kwaito early on. This one seems a perfect bridge into housier-fare.
INTERVIEW ︎︎︎
Moving Still & Nabihah Iqbal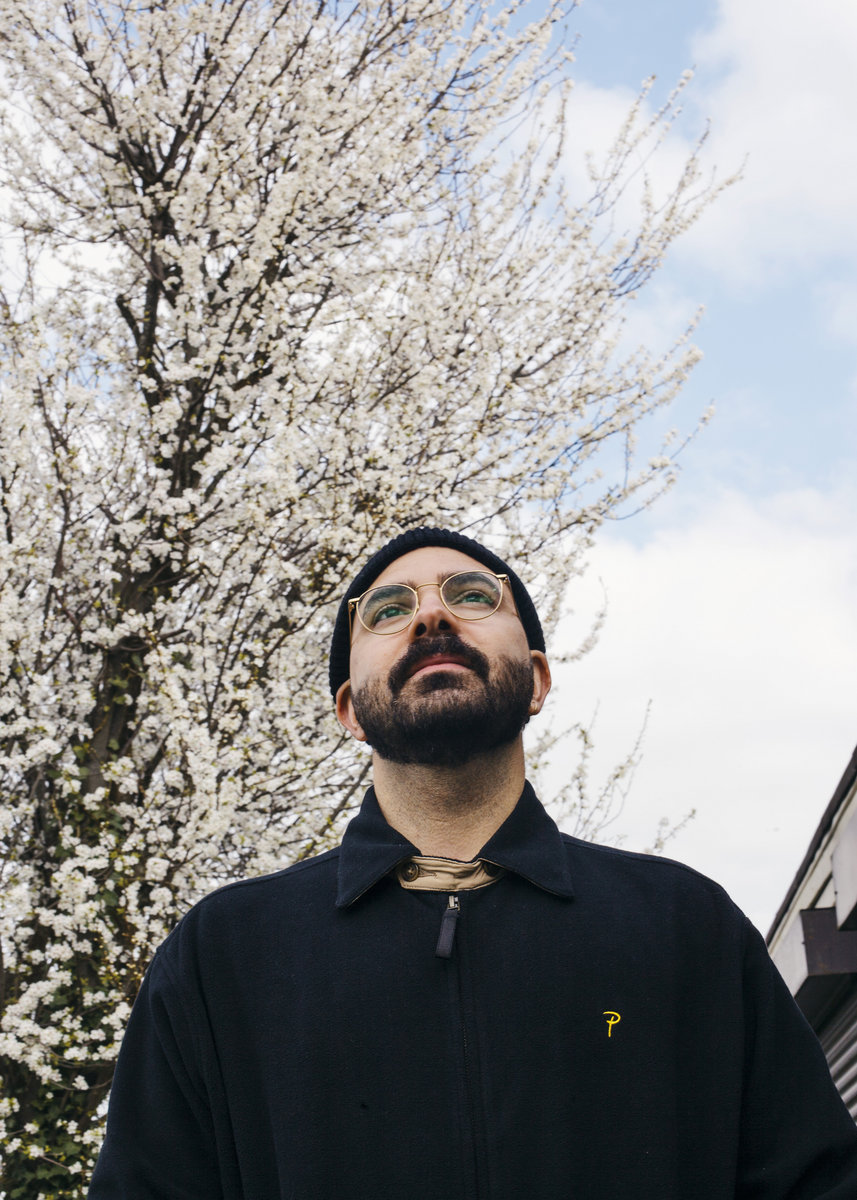 For the next installment in our series of artist conversations here on CWPT's spare acres of the internet, we're delighted to hook up our latest member of our recording family with one of the most diverse and prodigious talents in UK music.

Moving Still is the artist moniker of Jamal Sul, a Jeddah-born, Dublin-based DJ and producer who has weaved a path of imaginative disco edits and original productions that look to his Arabic roots while keeping contemporary dance floors firmly locked in, never sacrificing the inherent character of his cultural influences. His release for CWPT, 'Kalam Hub', released in November and now finally available on 12" vinyl, is a continuation of this approach, paying tribute to his grandmother and sculpting sublime breakbeats and analogue melodies from scratch.

A noted admirer of Sul, previously featuring both his music and himself on her long-running NTS show, Nabihah Iqbal has been following and supporting the Moving Still project since the very start. With a new album on the horizon from Ninja Tune later in 2023, the much-anticipated follow-up to 2017's Weighing of The Heart, we invited the pair together for a transcribed conversation concerning, amongst other matters, scales and tunings, Syrian synthesis and the Westernisation of musical gear (and how to subvert it), writing as emotional catharsis and the endless trail to license that one perfect, forgotten tune…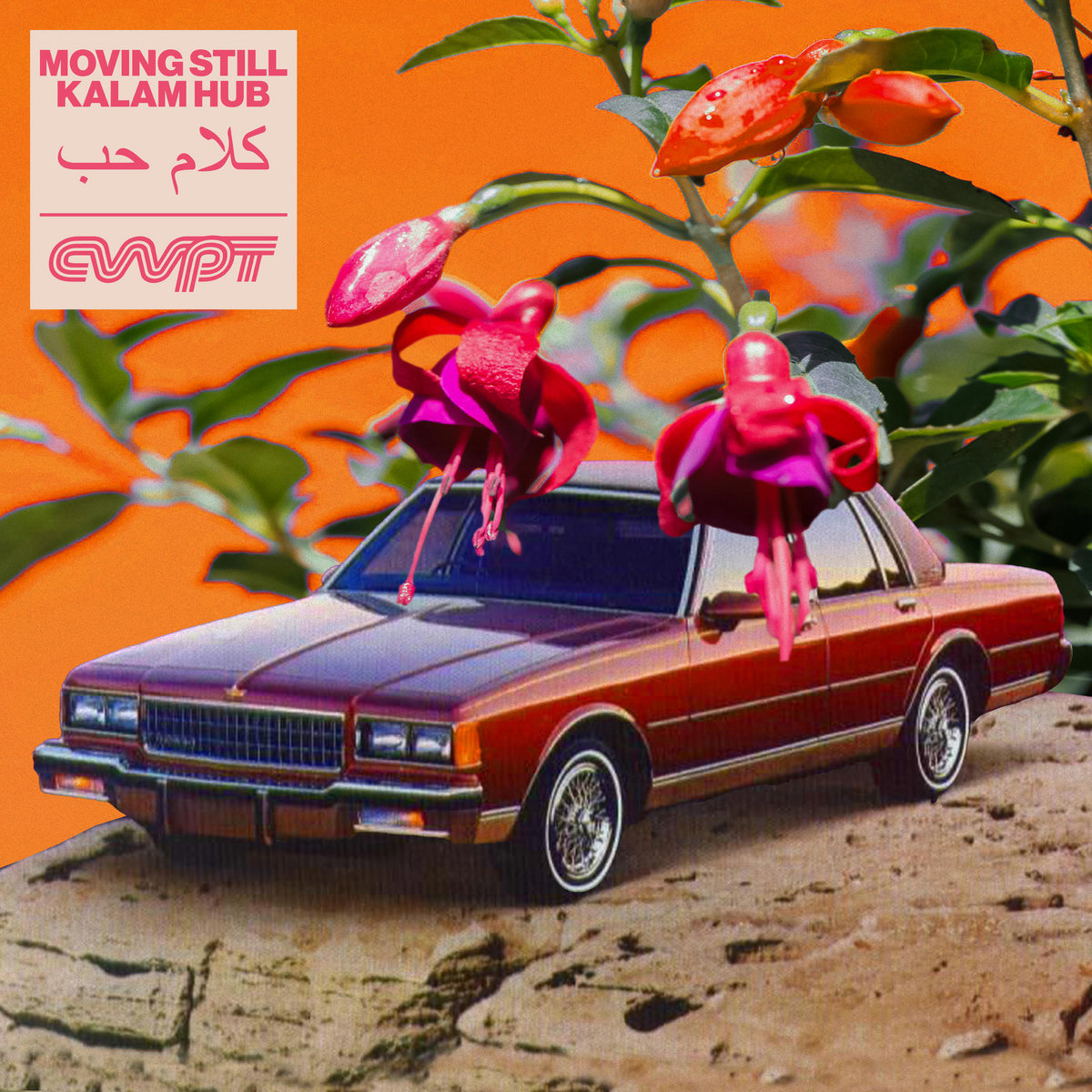 NI: As someone who's followed your music from the start, it's really inspiring and admirable to see the journey you've been on and how far you've come already. But I also feel you're just at the beginning, because the potential feels so exciting. I think I first discovered your music from this small Irish blog called wherethetimegoes …

MS:
Yeah, I think we emailed you around that time. Dean McGrath was the one who got us to do something with our music for his new label wherethetimegoes. For his label launch, myself, Lee Kelly, Cailin, Minos and Lastminuteman had all put together mixtapes. Dean's main message was that we were all making music and had no real outlet so he decided to give us all a push and do something with it. I think most of us sent you our mixtapes individually because we were such fans of your NTS show. We thought: "She might not email back," but then you did, I was like: "Oh wow," and couple of weeks afterwards, you gave me a slot.


I loved all the music I heard on that music blog about these artists from Dublin. Yours really stood out, so it was nice to connect. You did the guest mix for me and we've kept sharing music since. I know we've had various discussions about how the who and where we are plays into music, because both of us are diasporic. It's interesting because you're Saudi Irish, which is not really common. I think you're the only person I know, but maybe you know more in Ireland?


There's a huge community of Irish Saudi in Jeddah where I grew up. I have some best mates I still speak to 'til today who had the same upbringing: our mams Catholic, our dads Muslim. Navigating those two worlds has always been complex. I would travel to Ireland to visit my grandmother on my mam's side of the family, but I lived in Saudi until I was 14. Trying to understand those two worlds was confusing. It got easier to comprehend as I got older and I started making music. I started to write ambient house tracks, and as I was getting into production, you can begin to see the influence of my heritage. You were the first to hear "Al Disco Haram" before it got signed as the A1 for my EP with Oud. I was on really high doses of Tramadol because of my back injury and I had no recollection of sending it to you! You got back saying: "Holy crap". Then I sent it to the label, saying: "Hey, I have this song that I finished that Nabihah is really into it," and that became the A1.


That's still on A-list rotation in my DJ sets. It still sounds so fresh, and I never get sick of it; maybe because it was the first banger I heard from you. I've played it out so many times in different settings from big crowds to small crowds, and the reaction is always so solid. So thank you so much for making that amazing track.


It's funny, because every time I write songs, I have a baseline track I end up always referring to. Trying to beat that song is incredibly difficult. That's what we do as artists: try to beat ourselves even though we shouldn't, but it challenges me to think: "How can I write a song that's better?" Hearing other people play it and getting a reaction is more intriguing than playing it myself. We released it in 2019 and I wrote it in 2018.


Has it gotten too old for you now?


No, it's not that it's old. I think it's an Irish thing. Sometimes when you're playing your own music, you don't want to be big headed. I'm a lot better thanks to you, because you said people expect you to play songs they've heard. Playing it the last couple of gigs has meant I've started to take credit, and I've let that be a tap on the shoulder.


You should be proud of the things you've created, because of how it makes people feel on the dance floor. Dublin's got this super interesting, deep scene of electronic music producers, of which you are a stalwart. It's clear from any of your music that the Arabic side of your heritage plays a massive part in the melodic and harmonic nature of your tracks. But you then mix them with a traditional techno drumbeat. Was that something you consciously thought about?


It's a really good question. When I first started producing, I was such a fan of house and techno. There were a few key songs that had those Arabic melodies, such as Dark Sky who had an EP, Myriam, in 2012. It was always in the back of my head: "Wouldn't it be amazing to make that style of track?" But I never felt I was brave enough to push my heritage into music. I didn't think people would listen to it, especially people from Dublin. So I just didn't know if people would respond to it well. Then one day I made my first ever track, and named it after my friend. His second name is Jifri. So I just called it The Jifri. This would have been part of the mixtape I made for wherethetimegoes, so it wasnt ever released as a single track.
From there, I've really tried to understand how scales and tunings are different in Arabic music, which was difficult, because although I'm not classically trained, I weirdly know how to tune certain things that sound right in maqam. It was a bit of a journey to think: "How do I bring this into electronic music?" using programmes that aren't designed to do microtonal scales. It was a bit of a self-journey to find the confidence to embrace my cultural identity, and to be able to adapt and change regardless of what type of music I was making.


A lot of artists have talked about how most music programmes have the Western musical system as default, so moving out of those tunings or time signatures can be quite tricky. How did you go about it?


When I first started, I was just using the pitch bend on the synth to get in between notes. After a while, I realised if I sampled a certain lead instrument from a particular song, I could use that as an instrument as a whole, but you had to tune your bass and drums accordingly, which was complicated. Now I have a Yamaha 350 keyboard that has the ability to tune individual notes, which is really useful. The only issue is that you have to add a lot of effects to really get it to sound good. So I did that for my latest EP "Kalam Hub", just to try to get it to sound interesting. I've been using VSTs [Virtual Studio Technology] that can microtune certain notes, which is really fun.


It sounds like you need to do a lot of pre-prep before you even start making a tune, but it's interesting to hear you speak about the process, because it gives us an idea of how deep you actually try to carve out the sounds that you want to create.


Being in control of the pitch bend took a lot of practice, so I'm happy I've learned that a lot of the bends in between the notes in Arabic music is coming from the pitch bend. I'm learning Syrian synthesisers at the moment, which is interesting because the tuning is so complex and nuanced as soon as you move out of the rigid constraints of Western scales and tuning. But in those cultures, the music is way more fluid.


It's interesting to hear how you approach the synthesis and production of bringing in the Arabic nuances, within the wider context where electronic music is being democratised. The Internet means there is a platform for many more new scenes with so many different types of sounds. You're a part of that, because you played your first ever Boiler Room, which was quite historic because it was the first London-based Boiler Room focused on Middle Eastern artists, curated by Nooriyah, another incredible DJ, doing a lot for the scene. How did that feel?


It was a mixed emotion. Nooriyah did an incredible job picking the line-up and curating the event, and also playing a set. I don't know how she did it. I never thought my first Boiler Room would end up being in London. That blew my mind. I was nervous, but I'm pretty pleased with how it went. Of course, I'm my own worst critic, but I don't think I've been part of a line-up that was so curated to a specific community. The response was absolutely fantastic, from the very first to the very last set. It was such great energy. The way Nooriyah curated the line-up made so much sense, so I'm forever grateful that she gave me the opportunity to close.


I was there and the whole evening just felt emotional. It summed up everything that's amazing about a city like London, with a really good turnout of people from the Middle East and diaspora who were so invested in the music. You all played such amazing sets; it felt like a historic moment. It was great timing for you too. Palms Trax is an incredible producer and DJ. He's been playing some of your tunes for a while and I know you're a big fan. How did the release on his label come about?


I'd worked on three edits last year that I was really really happy about because it was the first self-release I've put out. I was really excited about it because they were three of my favourite songs. I ended up sending it to Jay [Palms], Jay got back and said: "God. These are absolutely incredible," and asked straight away if I'd be interested in sending over a demo for his label. When he put out his first release, I remember saying to my wife: "Out of the labels that I would love to be part of, it would have been Cooking With Palms Trax." I was in shock that he reached out to say: would I like to send him music?
At the time I had really bad writer's block. I had no new music and psyched myself out. I got back a week or two later, saying: "I definitely want to do this, but I don't have any music. If you can give me two months ..." From there I had a good brief that he wanted me to combine what I do energy wise for edits, but also bring in what I can do for original, which I've never really done before. It was really good to have a focus.
At the time my grandmother wasn't doing very well, so I ended up making this whole EP based around all the life experiences I'd had growing up around her, which was a really nice way to work on something, with a concept. Jay has been so sensitive towards my culture, but also me dedicating the EP to my grandmother. He was incredibly lovely to work with and his team, John Loveless and Dean Driscoll, have been incredibly great with every aspect. I just felt it was the first time where I could show a part of my life in a specific way and not hold back, which is absolutely amazing.
Jay got in touch November 2021, and then I would have had music for him in January 2022, then my Granny passed in February 2022. I'm glad I had the juices to be able to write that much music.


I guess my final question would be, what's next for you? Have you got things planned? Have you got dreams or do you know what are you thinking next?


I had so much juice creatively working with Jay, I just kept writing, even though I knew they wouldn't suit the idea behind the EP. So I've just kept writing stuff and now have enough music for an album, but I haven't decided what I'm going to do with that album, when I'm going to release it, if it's going to be independent or on a label. I'm still toying with the idea of putting it at myself, but I guess I just have to see what's more realistic and if it's better to be placed with somebody.
Other plans that I have is that I'm putting out two edits with Disco Arabesquo with legendary Kuwaiti label Al Nazaer. Its out end of January. It's two edits we've both have been sitting on for quite some time now and we finally got the licencing from the original label Al Nazaer, which is fantastic because that's where Arabic edits often end up as a dead end. So to get this licencing is very exciting, specifically for one of the songs in particular, because I've actually been obsessed with it. I think I played it at an NTS show a couple of years ago on Charlie Bones "Do You" show. To finally get the rights has blown my mind. It's quite a mysterious story. It's a one hit wonder band who recorded this amazing hit in 1994 and disappeared off the face of the planet. There's no information about them. They never continued. I think it was just like a band festival type compilation and after that they just disappeared.
For the rest of the year, I have some kind of releases here and there, but nothing concrete. I'm still trying to think whether the album should be the next thing or if I should drop another EP and then do album afterwards. So I'm still kind of unsure, is probably the best way to put it.


Even though it's unsure, it seems like it's all positive, whichever path you go down will be really exciting. I can't wait to hear new music.


I'm really excited for this one because the music that I've put on this album would be kind of a post to Al Disco Haram, so moving on from that song to a Al Disco Haram 2.0, which I'm excited for, because the idea behind it has some old references that I really believe in. So hopefully it gets to see the light of day.
Dream wise, that's a tough one. I guess it's just trying to see where this album would fit. I'd love to put it out on a label, but I guess it's trying to make sure it would be fitting and how much I'd be allowed to showcase what I want to do. It's important to get your message across without being too held back. Sometimes a label has a certain aesthetic they have to adhere to and all that kind of stuff. So I think once I get past that, it might end up being on a label. So I've just got to see what what the options are.


So I guess to end, I just need to say congratulations again on your new release.


Looking forward to yours, too!
---